Don't Even Think About Evicting Your Tenant Until You Read This Guide...
How I Saved $49,633 Evicting Tenants Myself
From: Jonathan Lasater, North Carolina Landlord &amp Eviction Veteran
Dear Fellow Landlord/Property Manager,
No matter how hard you screen, some bad-apple tenants will slip through and rip you off if you let them. Your defense against these nightmare tenants is the North Carolina Summary Ejectment (Eviction) system.
North Carolina's Eviction System can be confusing and difficult to navigate especially for first time landlords. I've been there as a beginner landlord, and I'd like to teach you to avoid the eviction mistakes that I made that will save you money and time.
You CAN evict tenants yourself. I'm going to teach you how.
How I Learned the Eviction System the Hard Way
Sad, but true: When I started landlording in Charlotte four years ago, I had to learn on the fly. I'd just taken over a small apartment complex in one of the worst parts of Charlotte. The units were occupied by drug dealers, prostitutes, homeless vagrants, and petty criminals. In fact, no one had paid any rent for 12 months!
My work was cut out for me, and a large part of what needed to be done was carrying out A LOT of evictions. The problem was, I'd never done one before.
My first eviction case was a woman I'll call Gloria, who wasn't paying her rent and was a rough-looking character. When I went to collect her rent, I learned that, "Someone had stolen her wallet" but she would, "Get me next month." I was naïve back then, so I let that month slide.
Next month rolled around and guess what? There was a problem with her bank card and she didn't have my money. Big surprise! I was pretty desperate for rent money at that time, but I decided I needed to toughen up and evict her.
When I told her she was going to be evicted, Gloria responded with a stream of obscenities and finished with, "I'LL SEE YOU IN COURT!" Scared, I hired an attorney at $250 AN HOUR. Can you believe that? All-in, it cost me $1,000.00 to evict this one bad tenant!
Can you afford to pay an attorney $1,000.00 or more to evict your Tenant for you?
I don't know about you, but I don't spend $1,000 lightly. I knew back then that if I didn't figure something out, evictions alone would bankrupt me. Thankfully, I learned that in North Carolina, you can actually evict Tenants yourself - without having to pay a lawyer.
So, I buckled down and studied NC eviction law. I read law books, scoured the Internet, sat in Small Claims court for hours on end, and even paid the same lawyer a bucket-load more cash to teach me everything he knew about evictions.
Scared, but determined, I filed my first eviction by myself. It was intimidating, but I was able to do it. And guess what? I won!
I now exclusively evict tenants myself, even after having acquired a larger portfolio of property. I used to be scared of the legal system, but I now use it confidently to my advantage, and you can too.
Learning to evict tenants myself has saved me over $49,633 in the past two years alone.
Since I began evicting tenants myself, I've refined my methods and developed new strategies.
I have dealt with a huge variety of tenant circumstances, overcome major eviction challenges, and successfully evicted countless tenants.
I am now pleased to present to you the culmination of all of my North Carolina eviction experience. I have compiled everything I've learned know about successfully evicting Tenants in North Carolina. The result is, The North Carolina Eviction Handbook: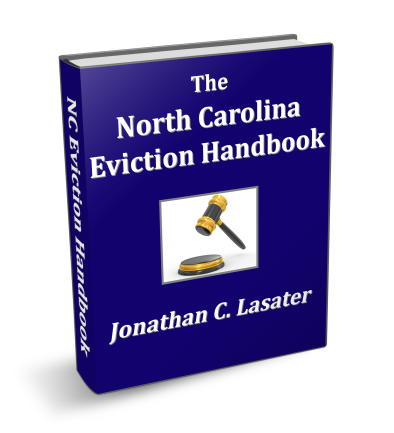 This book is one of a kind. There is nothing like it in North Carolina. Before now, you would have had to either pay a lawyer way too much money or try to evict your tenant yourself with no help - the file and pray method!
I Won!
"After reading and applying what I learned, I chose the best method, prepared all my documentation, filed the papers, showed up in court, and after a short wait, won my house back! I can't thank you enough for your help."
- Debbie H. from Charlotte
With the North Carolina Eviction Handbook, you have the practical information you need to successfully evict tenants yourself. Here's what you'll learn:
Learn to Evict Non-Paying Tenants
Is it hard to make your mortgage payment because of your tenant won't pay rent? There's nothing worse for a landlord than tenants who are always behind on the rent or lie to your face about why they can't pay.
It's not just the money: problem-tenants consume your life energy. If you're like me, you've no-doubt had sleepless nights wondering how to stay afloat because a tenant couldn't or wouldn't pay their rent.
After years of experimentation, I now understand how the NC eviction system works and know exactly how to handle these people to get them out as fast as possible.
Here's What You'll Learn:
Pre-eviction negotiation techniques.
How to file for your best chance of a quick eviction.
How to handle the case in court as a non-attorney.
What to do when the tenant promises to pay.
What to do after your court date to get the tenant out.
Learn to Evict Criminals and Other Troublemakers
Criminal tenants lower your property's value, often cause massive damage to your house or apartment, scare away good tenants, get you in hot water with local law enforcement, and overall cause you a world of grief.
Evicting these people is tricky, but I'll teach you my secret strategies that get them out.
You'll Learn:
The best strategies for getting these people off your property.
How to use a relatively unknown special North Carolina statute for evicting criminals.
What essential items are necessary to win against them in court.
Alternative strategies that can totally undercut criminals in court.
Learn How to Give Your Tenant Proper Eviction Notice
Many landlords think that just because the lease term ended, just because they gave a verbal warning that the rent was late, or even just because the tenant didn't pay rent, they can just immediately file eviction papers.
Nothing could be further from the truth. If you don't give your Tenant the correct notice at the correct time, kiss your chances in court goodbye.
You'll Learn:
Which notice to give and when.
How to create a ten-day notice to pay or quit.
How to create and where to post an abandonment notice.
How to terminate possession.
How to properly terminate a lease.
What critical language must be included for it to be valid in court.
How to ensure the tenant can't claim notice was never given.
Avoid Hidden Mistakes That Can Cause You to Lose
Judges often enjoy hounding on Landlords for violating certain rules that you wouldn't think are important. I learned the hard way what these procedures are, the potential defenses your tenant has against eviction, and how to respond effectively to win.
Unless you have someone train you, you may be breaking clear rules. Actions that might seem OK to you might not be OK with the court. You need to learn how to avoid these hidden mistakes so you don't unnecessarily lose in court.
You'll Learn:
What maintenance items YOU HAVE to do before court.
What fees you can legally charge and win in court.
What to do if the tenant is on a verbal/oral lease.
How to handle the tenant's "right to cure."
Whether you can accept payments after you've filed eviction papers.
Can you afford to screw up the eviction while your tenant is living on your dime?
Save Thousands by Doing Your Own Evictions
You may be worried you'll screw something up, but the North Carolina Eviction Handbook shows you exactly what you need to know to handle your case yourself.
A lawyer will make you feel more comfortable, but as soon as you do your first eviction, you'll realize that evictions are something you can handle on your own – as long as you have this information first. The North Carolina Eviction Handbook explains you how to handle every step of the process with knowledge and confidence.
As you know, it's easy to spend $1,000 or more to have lawyer evict your tenant for you. Just so you don't think I'm being unfair, here is a comparison of what it might take if you find a discount lawyer and your case is cut-and-dried easy.
Here's what you can save by doing it yourself:

Even if you hire a lawyer this time, what do you do when you have to evict another tenant? Do you really want to spend $500-$1,000 every time you have to evict someone?
Even if you have only one tenant to evict, you'll save money!
First Rental Disaster
"My wife and I got a great deal on a rental property not too far from our house. After fixing it up, we rented it out to a guy who seemed great. He paid his rent for the first few months, but we pretty quickly realized that all was not right. He stopped paying rent and started tearing the place up.
"My lawyer quoted me $180 per hour to handle it, which seemed like way too much...I found your book after some searching and decided to spring for it. We thankfully had a lease with him and were able to evict him without too much trouble. I'd estimate I saved almost $500 doing it myself. Thanks a bunch."
- William T. from Raleigh
100% Money-Back Guarantee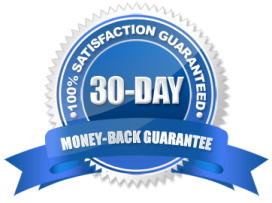 I am so confident that The North Carolina Landlord's Eviction Handbook will teach you what you need to know to evict your tenant that I will give you 30 days to read it and test my strategies. That's right, I will completely refund your money if you are not completely satisfied with the product.
All I ask is that you tell me why you're returning it so I can improve it for other landlords. Tell me that's not a good deal!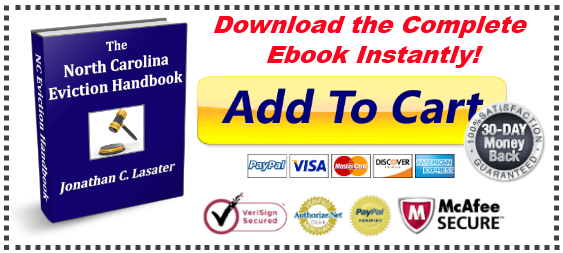 If you order today, I'll throw in these great, FREE bonuses:
Bonus #1: The Secret to Cutting Your Evictions by 10 Days
Most landlords think that North Carolina makes them wait 10 days to file an eviction. Did you know there's a secret way of avoiding this 10-day period?
This technique can save you hundreds or thousands of dollars once you implement it. I've personally saved more than $52,990 by using this method - not to mention all the lawyer's fees I've saved!
Think about it: ten days of rent at $1,000/month could cost you $333 or more in lost rent revenue.
This one bonus more than pays for The Handbook by itself!
Bonus #2: The Notices I Use in My Own Business
I sell these lawyer-reviewed, field-tested notices separately on my site for $10 a piece, but you get them free when you buy the North Carolina's Eviction Handbook today.
I include each battle-tested notice that I use in my North Carolina landlord business.
Here's What You'll Get:
Lease termination notices.
Abandonment notices.
Termination notices.
Non-payment of rent notices.
Holdover notices.
Tenant negotiation notices.
There are sites that sell these items separately for $20 a pop, but you get them FREE when you buy the North Carolina Landlord's Eviction Handbook. Bought separately from those sites, you would pay more than the entire cost of the Handbook!
Bonus #3: Case Studies From My Eviction Experience
In addition to giving you practical information, I'll explain the methods I've used in my own business to successfully evict tenants. You'll understand what's worked and what hasn't in many varied circumstances.
You'll receive case studies that cover the majority of common situations landlords are likely to encounter. I describe exactly what happened, the reasoning behind my actions, and commentary on what did and didn't work.
Bonus #4: Where to Find the Best Lease in North Carolina
Even if you think your 1-page lease is good enough, the courts might see it differently. I recommend the most battle-tested, landlord-friendly lease in North Carolina.
This lease has saved me in Court dozens of times and will do the same for you.
Wow! Look at all these bonuses you get: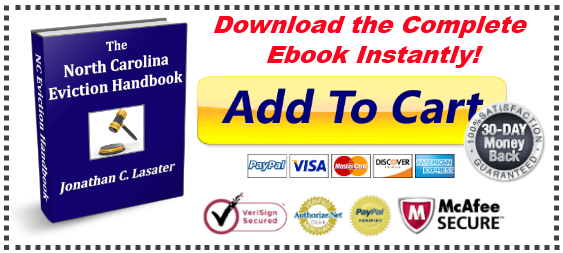 Frequently Asked Questions
Why can't I just pay my lawyer to teach me how to evict?
This is what I did, and I spent well over $1,000, and that was only a preliminary education. I had to spend countless more on additional sessions (not to mention the hundreds of hours I've spent in the courthouse). Then I had to learn the rest through doing my own evictions and talking to other landlords.
In this economy can you really afford to invest 10 times the cost of the handbook, spend countless hours researching, and risk unnecessary losses in your eviction cases?
Take a big-time shortcut and learn from the experience of a battle-hardened landlord, and buy the Handbook with a 30-day money-back guarantee.
Can I really do this myself? I'm scared.
I was scared too the first time I evicted someone by myself. But if I can do it, you can too.
It may seem overwhelming at this point, but once you read the Handbook and learn the ins-and-outs for yourself, you'll have the confidence you need to evict your tenant using the methods I teach.
Why can't I just try to do it myself without training?
If you're feeling this way, I admire your confidence and tenacity—but plan to spend a lot of time and money and make some costly mistakes.
Expert training is necessary to avoid a huge number of possible mistakes.
You could win, but here are some of the risks:
Giving the wrong notice at the wrong time with the wrong language.
Saying the wrong thing in court that kills your case.
Risking a lawsuit because you did the wrong thing pre-trial.
Losing a complicated eviction against criminals.
Overlooking a hundred other little things which could kill your case.
If you mess something up, you're going to have to re-file the court papers at a cost of about $150. Doesn't it make more sense to invest a little now, to save a lot later?
But you're not a lawyer. Are you qualified to offer this advice?
This is a great question! Indeed I am not a lawyer. I'm just a landlord who has had to deal with the ins-and-outs of the eviction system over scores of evictions and many years.
If you don't find that the methods I teach in the Handbook to be solid and effective, then simply return the book within 30 days for a 100% refund. That's a pretty fair deal, right?
Here's a Recap of Everything You'll Get:
How to evict people who aren't paying their rent.
Everything you need to do BEFORE you file eviction papers.
Common reasons for losing and what you can do to prevent them.
What to do about illegal clauses in your lease.
What notice to give and when.
The secret to avoiding the 10-day notice requirement.
A complete description of the court process.
A complete list of legal terminology you'll need to know.
The complete Chapter 42 Landlord/Tenant statutes.
How to evict criminals and other troublemakers.
What to do and say during court.
How to deal with a Sheriff lock out.
How to deal with possessions the tenant left behind.
How to handle tenant appeals.
All of the eviction notice forms I use in my own business.
Case studies of my hardest evictions.
A glossary of all the legal terms you will need to know.
And Much More!
Can you afford to NOT have the info in this book? Order your copy today!
Thanks!
"Hey John. Got your e-mail. Just letting you know that we did end up winning the appeal. I have no idea what I would have done without your guide. I really appreciate all the help sir. Thanks."
- Austin R. from High Point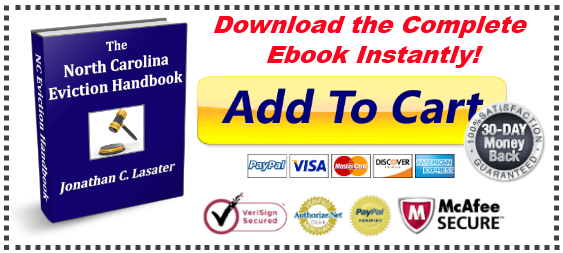 Thanks for reading and good luck out there.
Sincerely,

P.S. If you order today, I will give you a 20% discount on my upcoming book Landlording Made Easy which teaches you the techniques to run a fun and profitable property rental business (with nearly no evictions).
---